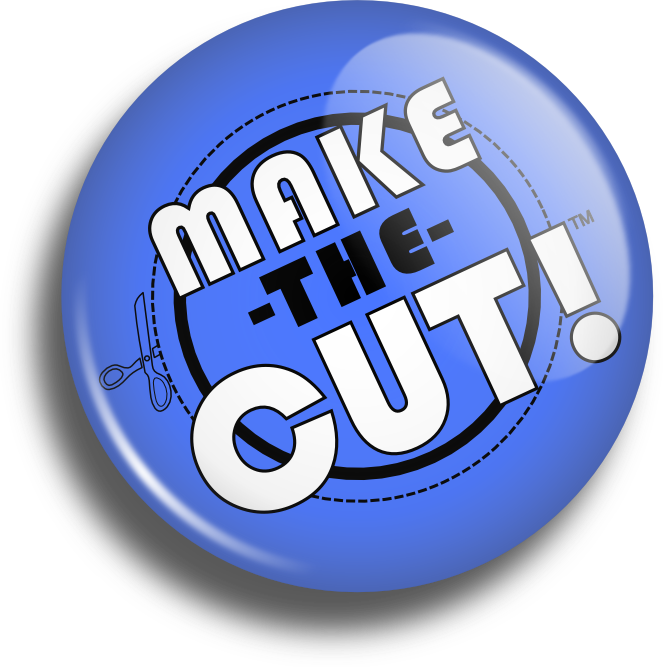 It is often said that it takes a hardship to learn who your friends are. This past weekend, Andy and Ann found out that they are surrounded by more friends than they ever imagined. At least 486 749* of us.
Provo Craft filed a lawsuit against Make-the-Cut last April. It was with every good intention that Andy had written in a feature for MTC/Cricut-users to backup their cartridges but I supposed it was too good of an opportunity for Provo Craft to not take advantage of and so, a lawsuit was filed. I read every page of the lawsuit and even though I am not an attorney and wasn't able to fully comprehend the claims of the case, it was apparent that the program was being painted as an evil and sinister thief.
Make-the-Cut is a program that was written by a loving husband for his Cricut-obsessed wife. We were lucky that Andy decided to share his work with the rest of us, fans of the Cricut machine. Before MTC, some of us Cricut-owners were also users of Provo Craft's Cricut Design Studio (CDS) program. Despite repeated requests, Provo Craft has not made any improvements to CDS. We have bought the software and we were willing to pay for upgrade and yet the updates released by Provo Craft were only for adding images of new cartridges and not for adding enhancements like new tools or features. Disappointed with the lack of progress, we were more than excited to turn to MTC when it was released in Dec '09.
Since its initial release, the program has been updated and upgraded multiple times, each time adding even more new features than the last. Andy set up a forum for the MTC users to hang out, a place where we can discuss how we can expand our creativity, and what we need for Andy to do, so that we can better use our Cricut.
Andy listened and Andy worked hard to give us what we wanted. We celebrated with every update. We cheered with every new feature. And then Andy decided that the forum wasn't good enough for us and so he started the weekly webinars where we could actually get together and talk about our passion for using Make-the-Cut with the Cricut.
More and more people started joining the MTC family and even more decided to buy the Cricut machines because MTC allowed them to expand their creativity beyond cartridges. Many have posted on the MTC forum that they bought the Cricut only because they were able to use MTC with it. Did using MTC stop them from buying more Cricut consumables like mats and blades? Of course not! We all need more mats and blades because we were able to cut with the Cricut even more. Did using MTC stop us from buying cartridges? Like many of the MTC users, I continued to buy Cricut cartridges despite having the program. I was having the time of my life creating with Lettering Delights SVGs, and Cricut cartridges and Make-the-Cut with my Cricut machine. It was possible for me to do that only because of Andy's Make-the-Cut, a program that was written by a user for the users.
I guess no one was really surprised that almost a year after that filing, MTC has settled the case with Provo Craft. Who really can afford to fight with the big guns? A husband-and-wife team going against a company with the deep pockets is like David fighting against Goliath except that this David does not have the luxury of a stone or a sling. The word out on the streets today is that with the settlement, not only does Andy have to remove the backup feature of the program (which he already did last March), but that all future updates of MTC will not be compatible with the Cricut machines. In the process of punishing Andy, Provo Craft is also effectively punishing anyone who uses MTC with the Cricut.
While I understand why Provo Craft filed the suit, I am unable to comprehend why they refused to listen to us, their customers, and try to improve on the Cricut Design Studio. I wished that they would have spent the time working and improving on their CDS program instead of introducing new products all the time. If they have a superior program (CDS doesn't even have a tool as basic as the Shadow Layer!), Cricut users would not even have the need for any 3rd party software.
And so here we are today, the case has settled and us, the Cricut-obsessed fans are left feeling betrayed, and punished for loving the machine. Everyone is waiting for Andy's official statement, which at the time of this post he has yet to release. Until he does, no one really knows what is going to happen to the current MTC users who cut with the Cricut. We know that future updates of the program will likely be incompatible with the Cricut but will we still be allowed to use the current v.3.2.1 (which works with the Cricut) for as long as we want if we never update the program again, or will there be some sort of a forced update? The one thing that I do know, is that since MTC is compatible with other cutters like the e-craft, Gazelle, Craft Robo, Silhouette, and the Cougar, many MTC users are ditching their Cricuts and buying a different brand cutter that works with the program. Imagine that! We would rather stick with a good software that allows us creative freedom than to be tied to a cheap machine that can't even cut circles right! That's quite a testament for a program that is just over a year old. Andy and his wife, Ann, should be so proud.
For those of you wondering, I am currently using a Cricut Expression with MTC v.3.2.1 and I will continue to use the unit that I have until I am no longer able to. While I am waiting to hear Andy's official statement, I am also looking to add a second electronic cutter to work with the program. This Friday, I will be posting about the other cutters that work with Make-the-Cut. If you use Make-the-Cut with an electronic cutter that is NOT a Cricut, please email through my contact form above. I would love to feature your work made with Make-the-Cut. Please send a photo of your project along with the brand of cutter that you used to create it with. In the meantime, if you have a Facebook account, you might want to add your voice here:
* count updated mar 14, 11am pst.